...but I just had to take a photo of this. I keep a copy of every CN:H book we print. Have since the beginning. They're a good resource for when I want to brush up on the story so far or need a reference for a character that hasn't appeared in a while. Other than that, I don't think much about them. When I went to put the Prologue reprint with the rest of my copies, I noticed that they take up two of those magazine holders now.
I thought it might be interesting to take a photo of them all. So, here's my full CN:H collection.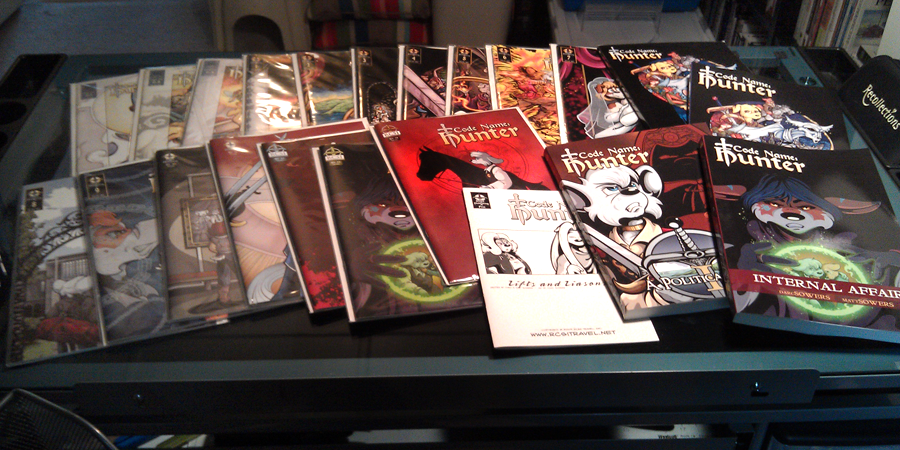 I hadn't realized there were so many books. We don't keep the single issues in print after a while, so I kind of forget they existed. The two Prologues are the latest reprint and a copy of the original printing from 2007. The only thing I don't have is a copy of the first mini comic we gave out at cons a few years ago. I used to have a copy, but lost it somewhere.
I know this isn't a large pile of work compared to many out there, but I'm still tickled by the fact that this amount exists at all. I guess sometimes you need to stop and actually look at what you've done to realize that yes, you have accomplished something. Even if it's just a little something.
And, on that note, I'm heading back downstairs. I've some pre-orders to sketch in. Thanks guys!
Tiffany:
"This is the hardest and most important decision you'll ever have to make."
Quinn:
"I know! Stacy, do you still have that Magic Eight Ball?"
--
Daria