As promised, here's the fun and fuzzy report of our
Anthrocon
trip.
We left Massachusetts last Monday afternoon to avoid the morning traffic. After a quick stop outside of Albany, New York for the night, we continued on to Niagara Falls Tuesday.
Matt and I love the Niagara Falls area. The falls themselves are amazing! So powerful and beautiful. I just wish we could have spent more time there. Spending the day with Matt in one of our favorite places really made my birthday. Thanks Hun!
Here are a few shots of the falls. We stayed on the American side since neither of us have a passport at the moment. We'll get our passports eventually. I promise.
Wednesday morning it was time to head out to Pittsburgh. After a nice drive we arrived about midday, checked into the hotel, and hung out with
Ash
for a bit. Then, trouble came knocking at the door. Just kidding, it was
Chrispy
.
We've been talking over Skype for a few months now, but this was the first time we've been able to actually meet. Very cool! Since it was his first Anthrocon I'm afraid we may have razzed him a bit. Like slipping packets of sugar into his pockets, getting him to join us in the Ash Pup Dance, and having Ruby paw at him. But it was all in good fun. Really.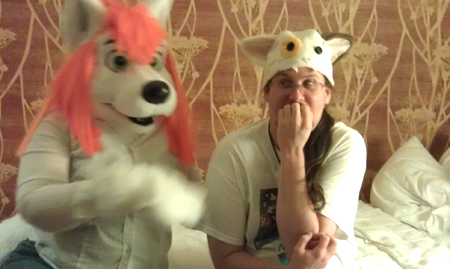 After a quick tour of the convention area, it was time for some dinner and goofing off before set-up the next day.
Normally Matt and I stop by the
Toonseum
while in Pittsburgh, but this year the exhibit was Care Bears. (We missed the Eisner exhibit by a week.) While I may have enjoyed that, I doubt the guys would have. So, no Toonseum this year. Maybe next time.
Set-up was a little different this year. Normally we ferry the boxes in ourselves using multiple trips. This year, there were too many boxes. So, we had to enlist the help of the Teamsters. But, the end result looked pretty good, if I may say so. We went for two tables this year and actually looked semi-professional. Scary, I know.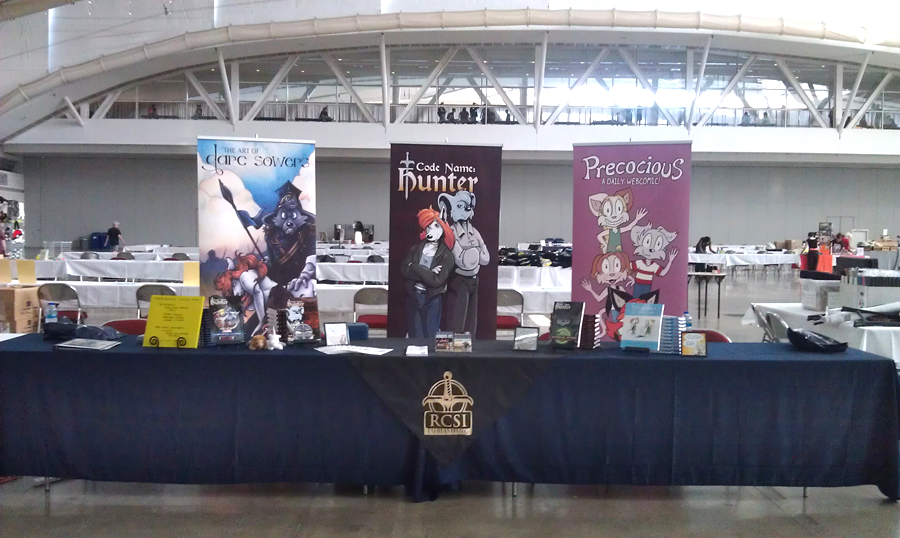 With set-up complete, we wrangled the amazing
Amber
and
Mason
, piled everyone into the Journey - which from now on will always be known as the Pregnant Yak thanks to Amber - and headed out to find Hoss's Steak House. Turns out not only does our GPS seem to think the Pregnant Yak can drive in the middle of the Monongahela River, it also didn't realize that six months ago Hoss's became a Damon's Grill. Still, good company and good food makes for a great time!
The next day it was go time. Matt sat in the middle and acted as cashier while Chrispy and myself worked the ends of the table, taking commissions and being available to readers.
Friday was the big day. Sales on Friday were constant and the table was hopping. Unfortunately, I didn't plan my sketchbooks out well and ended up hurting my wrist Friday evening. As a result, I wasn't able to take any sketchbooks on Saturday. I apologize for turning people away. I really appreciate everyone who came by to ask how my wrist was Sunday. Thanks for keeping an eye out for me!
Saturday was also the day of the fursuit parade. I tried suiting as Ruby a bit on Friday, but wasn't too sure what I was doing. This is new after all. So Saturday morning I figured I'd just sit the parade out. But, as it came closer to parade time I figured what the hell, put the head on, and asked Matt to walk me over to where everyone was supposed to meet up.
I had no idea what to expect and was really feeling scared and kind of unwelcome at first. Then
Southpaw Fox
,
Tobi
,
Karmakat
,
Jouster
, and
Mits
came around. The guys took care of me and helped me through my first parade. Thanks so much guys! I had a blast and will definitely participate in a suiting parade again. It's one of the few times I can suit as Ruby since I know the table won't be busy during the parade. Hopefully Ruby bouncing around made a few people happy.
I noticed that the guys had special fursuit badges. It turns out you had to stand in line in full suit to get one. I figured I was out of luck. I need to be at the table when the Dealer's Den opens. But Sunday there was a tweet about a number of badges still being left. So, I asked Matt if he'd walk down to Con Ops with me and I picked up my first suiting badge. Neat!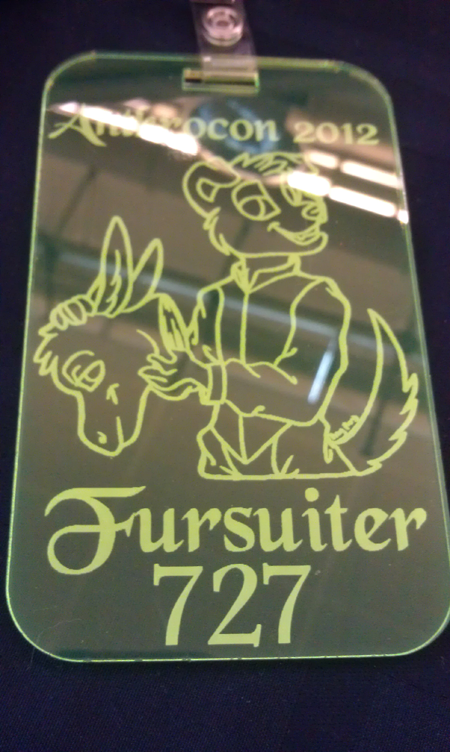 Sunday was a very slow day due to everyone being drawn away from the Dealer's Den towards the Art Show, Artist Alley, and the various auctions. Still, sales overall were much better than they've ever been before. More importantly, we had a great time! It was wonderful to see friends again and to make new ones. A big thank you to everyone who stopped by! Also, thank you Uncle Kage and the staff of AC for putting together another great con! And thanks Pittsburgh for putting up with these strange, fuzzy people once again! You're one of the most welcoming cities ever, I swear.
Lessons from AC...
One of the things Matt and I like to do with the cons is figure out what we can learn from the experience. While AC went wonderfully, we did pick up a few lessons.
Labeling Your Stock:
First off, it turns out labeling our boxes, which started out as merely a "this is neat looking" thing, was a great idea.
This was the first year we've needed to rely on the Teamsters to ferry our boxes from the dock to the table. Having all the boxes sport the RCSI Publishing logo made sure none of our boxes got misplaced. While this isn't such a big concern at AC - cars are only unloaded two at a time - I can easily see how boxes could get misplaced at a larger con. So yes, labeling your boxes not only looks good, it helps keep your products together.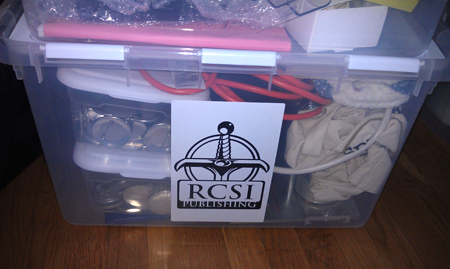 You don't need lots of money and custom orders to label your stock boxes. Labeling can be done cheaply and easily. All we did was print the RCSI Publishing logo on full sized, blank shipping labels. That's it!
Size and Appearance DOES Matter:
Having two tables really drew attention to us and helped sales. Having two artists working on commissions live, at the table, helped even more. And, having three new books (we had a few extra copies of Chrispy's 'Precocious' Volume I) didn't hurt either.
While releasing three new books each year is not possible, we can replicate the table set-up and artists working live situations. Many smaller cons allow you to have one table only, so we'll need to figure out a rotating artist schedule for those. But for the bigger cons, I think we've hit on something useful. We'll need a few more shows to test this for sure.
I Cannot Draw on a Flat Surface:
Seriously, everything looked a little slanted and cockeyed to me, especially character's faces. A slightly slanted drawing surface is needed. We'll see what we can cobble together from stuff in the house. If people are paying me for work, I want them to get their money's worth. It also helps lift my head up a bit and allows me to see people passing by easier.
Don't Confuse the Attendees:
People kept thinking Matt was the artists for CN:H since he was sitting in front of the banner and not me. Confusing attendees is not good. It's one of the reasons I wanted my personal banner to include Max and Ruby. I figured people would make the connection if the same characters were on both banners. While many people realized I'm the artist of CN:H, many others did not. So, we'll need to fix this somehow.
Using Tech to Track Money Flow:
Another thing on our list of ideas is a method of recording sales live, using the tablet. As a former librarian I'm familiar with these little pen-like wands that read bar-codes. We'd run them over the bar-code of books to check them in and out. Something like that could work wonders for us at the table. Especially if we could set it to record the sales immediately into our accounting software. That would mean all sales would be accounted for and paying artists at the end of the day would be fast and easy.
The books are all bar-coded as is. Smaller items and commissions could be listed on a laminated sheet with a unique bar-code for each - something we did at the library I worked at throughout high school for large, non-book items. If we could get the tablet to send the purchases to a small receipt printer it would be even better. Because when things get busy, despite your best intentions, somethings just don't get written down. I know the technology exists. We just have to locate it.
Invest in a Cash Box With Compartments:
While credit card sales through Square were up, cash was still king at AC this year. And our cash box is a little thing that only has one compartment. This meant we ended up flashing more cash than we should have while trying to make change. So, a proper cash box with compartments is a must. The deeper the compartments, the better.
While most of the furry fandom would never consider robbing someone, it only takes one dick to rob you. And there's always at least one dick in any fandom. So try not to flash any large sums of bills. Big guys like Matt can intimidate most would-be robbers. Smaller folks like Chrispy and myself need to be more careful. And for goodness sake, never leave your cash box on top of your table! Put it below, out of view.
Bring Enough Change and Evaluate the Amount Now and Then:
We usually keep $50 in the cash box to act as change. This time, that wasn't enough. Matt had to make a bank run midday Friday due to us literally running out of change. And I don't mean coins. I mean bills below a twenty. Our till will be starting at $100 from now on. We've reached the point where our audience density is a little more than a starting till of $50 in small bills can handle.
Use Square? Make Sure All Table Mates Can Use It:
We lost a few sales while Matt was out due to me being confused by Square and the attendees not having cash on them. Stay up on the latest tech at your table, folks.
Going to a Familiar Area? Don't Count on Stores Sticking Around:
We found out that there's been a lot of changes to the stores around AC since last year. Namely, the Staples is gone. We made the mistake of relying on Staples being open. Instead, we had to make due with what we could find at the FedEx shop. Higher prices and less variety. So, plan ahead. Pack extras if you can and check Google Maps to see what's currently around the convention. The economy has been rough on many shop owners these last few years. Your old haunts may no longer be open.
If You Plan on Doing a Door-Prize, Check the Laws First:
We also learned that raffles and door-prizes, even when the tickets are not for sale, is a no-no. There are licensing issues involved. So, we won't be doing that again. Sorry guys. Also, sorry to the Dealer's Den staff for any annoyance we may have caused.
Don't Alienate Your Allies. And Yes, the Dealer's Den Staff Are Your Allies:
While attendies may be able to get away with ticking random people on the staff off, you as a dealer should be on your best behavior. Yes, you will get frazzled during Dealer's Den hours. I guarentee you, the Den staff and security are frazzled as well. If troubles come up, such as our door-prize issue, try to remain calm and talk it out. If you can't, let a member of your party who
can
remain calm diffuse the situation.
The staff have a reason for the rules they enforce. Remaining calm can help you learn the reason and come to a resolution quicker. It'll also help your relations with the con. Staff will remember you if you draw attention to yourself. Do you want to be remembered as a pleasant person or as a prima donna? The pleasant person is welcomed back and sometimes even gets their choice of table placement. The prima donna... not so much.
Locking Wrist Equals Loss of Sales:
I need to find a method of keeping my wrist from locking while at a con. I turned down three sketchbook commissions within the first half-hour on Saturday and more as the day went on. That's a minimum of $120 that I really could use. Not to mention word of my wrist being on the fritz most likely didn't help sketchbook sales Sunday. Not good.
If certain ideas come into play over the next few months, cons will be the only time I'll be able to take commissions. (No, I can't mention things yet. I will as soon as I can.) I've an appointment with Dr. Brian tomorrow, so I'll ask him then. Maybe he can recommend a series of exercises to help keep the wrist limber.
Drink Water and Juice:
I know this and yet I still stuck with soda for most of the weekend due to a lack of sleep. Now, I have con crud. So yes, drink the proper fluids. And take your vitamins.
Cushion Your Standing Space:
The Dealer's Den of AC is in a vast room with a hard, concrete floor. After eight hours of standing on that, even in the best of shoes, your feet will be sore and swollen. If you can, invest in some
anti-fatigue mats
. They're cushioned to add some extra support, perfect when standing on a hard surface with little movement for hours at a time. Yes they're a little pricey, but for vendors who plan on attending multiple cons a year and prefer to stand when taking to their audience, it's the way to go.
Put Your Business Cards in More Than One Spot:
We had a nice, multi-tier business card holder sitting on the table. And yet, few people noticed it. Once extra business cards were spread out near the books and artists themselves, more cards were picked up. So while the holders are good to have, don't be afraid to leave a few business cards lose around your table.
I think that's all for now. I'm going to head downstairs, take another dose of throat goo, and crash for a bit. I'll email everyone about their AC commissions later this evening. Thanks again for a great AC guys! Later!
"You should make a point of trying every experience once, excepting incest and folk dancing."
-- Arnold Bax